Handouts: Education collection
Regular price
Sale price
$15.00 USD
Unit price
per
This collection of handouts has everything you need to educate others about monarch conservation and all the ways to get involved in their conservation efforts. Printed on high-quality semi-gloss paper.
This is a brief guide to planning, installing, and maintaining a butterfly garden on school grounds.
Monarchs are in serious decline and an all-hands-on-deck approach is needed to protect their amazing migratory phenomenon. Everyone can contribute to monarch conservation through habitat creation, educating others, participating in research, or financial contributions to conservation groups. This handout provides an overview of monarch conservation and what you can do to get involved in many ways to support monarchs.
Monarch & Milkweed Misconceptions
When it comes to monarch conservation, one thing is certain – without milkweed (plant species in the genus Asclepias) there would be no monarchs. Milkweed is not always recognized for its important connection to monarchs, in fact, historically it has come with some very negative connotations. In this document, the Monarch Task Force of the North American Pollinator Protection Campaign aims to de-mystify some common monarch and milkweed misconceptions.
Plant Milkweed: Information fact sheet
This resource includes photos with habitat information for milkweed species common to each U.S. region. Find species known to be well-used by monarchs, and easy to establish in gardens and fields in your region.
This informational flyer provides tips on how to create a garden that will attract monarchs and other butterflies and pollinators.
Learn about volunteer contributions to understanding an iconic insect and some of the main monarch community science programs to get involved in.

Please note: you may print any of our handouts yourself for free (or take the files to a local printer) if you do not wish to order them from MJV.

Share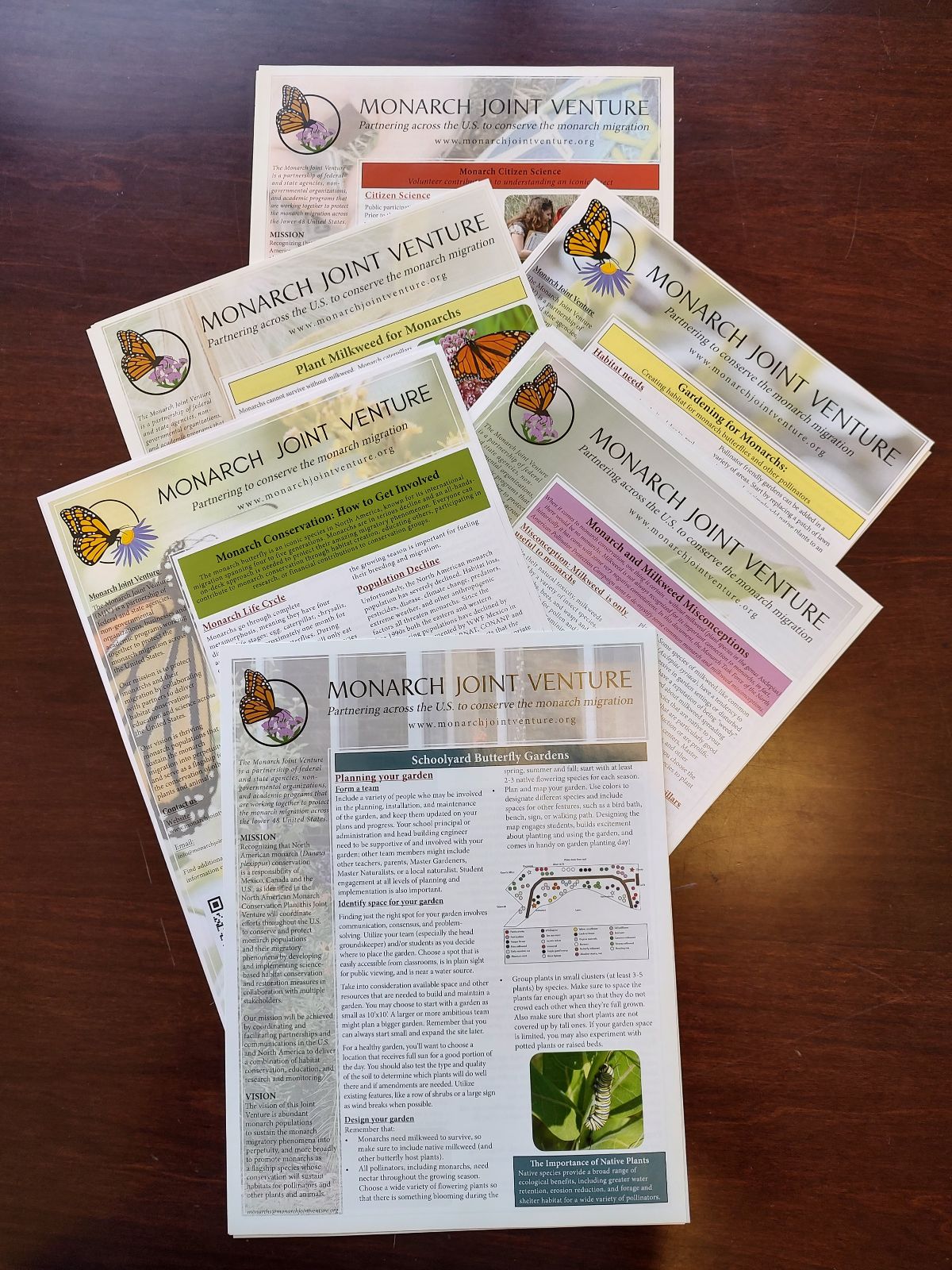 Handouts: Education collection
Educational handouts
The Educational handouts from Monarch joint Venture will encourage community members to begin their own native gardens and help them to appreciate our newest Community Pollinator Garden where Rose Swamp Milkweed and Meadow Blazing Star has been full of Monarchs this Summer.